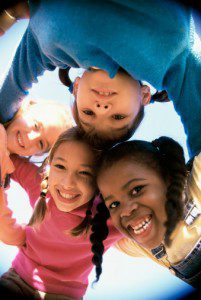 Since children learn best from active exploration of their environment, play is necessary for building a healthy foundation of a child's development. As parents, you already use daily attuned interactions and play to teach your children about how the world operates. This allows them to practice such skills as problem solving, logical thinking (cause and effect), and relationship building with you. Similarly, children's interactions with their peers gives them opportunities to practice and master the skills that they have already developed from playing with you. They are constantly learning about emotions, empathy, turn taking, and sharing, all of which are the basic building blocks of robust socio-emotional development.
Our playgroups span over the course of eight weeks and each week's session is an hour and a half long. We offer two playgroups according to age ranges and they are open to early learners of all abilities and caregivers of all degrees of playfulness. Siblings, grandparents, and other play lovers are welcome. The more, the merrier.
Fun with Friends Social Group (6-10 years old) – Summer Edition!
Join our occupational therapists in this unique and experience-rich social playgroup designed for children of all abilities!
More about Fun with Friends Social Group
Sensory Adventures Playgroup (2-3 years old)
Join our occupational and developmental therapists in this sensory-rich and developmentally stimulating playgroup designed for toddlers of all abilities!
More about Sensory Adventures Playgroup
Sensory Adventures Playgroup (3-5 years old)
Join our occupational, and speech therapists in this sensory-rich and developmentally-stimulating playgroup designed for children ages 3 to 5 of all abilities!
More about Sensory Adventures Playgroup
Fun with Food Social Group (2-4 years old)
Fun with food is a social eating group led by a speech-language pathologist. It provides a fun, interactive play-based approach to eating by using foods of a variety of textures, colors, and flavors.
More about Fun with Food
Reading Buddies Group (2-4 years old)
Reading Buddies is a unique class that promotes your child's early literacy development. Every week, your child will enjoy theme-based activities that help build language and literacy skills in a fun and creative way!
More about Reading Buddies