What is developmental therapy?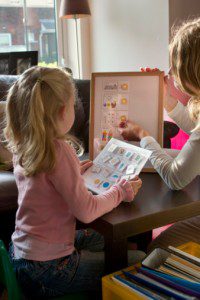 Developmental therapy (DT) is a branch of therapy that looks at a child globally. A developmental therapist evaluates your child's strengths and challenges in their language, cognitive, socio-emotional, and motor development. The DT then strengthens the areas of development that may be slow to unfold by utilizing play and parent education.
You can expect your developmental therapist to:
Be on your side. We enjoy hearing about what you love about your child and family, what and whom your child likes to play with, what makes him or her smile, and what you do to calm or sooth them. We find what you and your child are great at and build skills from there.
Work with you to help your child participate in daily routines with the rest of the family. It could be anytime of the day or any routine that you would like to focus on (i.e., sleeping, feeding, bath time, playtime, going grocery shopping, visiting other family members, etc). Since we work around your daily routines, our work together should not feel like homework that you have to spend extra time on.
Help you understand your child and their development so that you can adjust your parenting style to fit what your child needs. We will coach you on different ways you can boost your child's development while you are playing or interacting with your child.
Help you put together all the therapy recommendations you have received from other therapists (OT, PT, SLP) and sources of information (mother-in-law, the Internet, etc.). We will also help you incorporate new ideas with your child to determine what the best fit for your entire family is.
In short, we strive to enhance your child's development as a whole person, as well as your development as attuned parents. Most importantly, you will learn about the significance of your own role as parents- the most valuable members on the Early Intervention team- so that you can be the best advocates for your child and for yourself. Our goal is to empower you as our key partners in Early Intervention by providing you with information about how to get the most out of your developmental therapy services.